Anna Hazare in America:promoting Corruption Racism Bollywood & Pakistan!
The Indian Panorama Editor Prof. Saluja said that Anna Hazare should know he is no ordinary person, that all his activities are being watched and interpreted by billions who love and admire him as another Gandhi. He should know the high hopes people of Indian origin the world over have from him. He will only be promoting corruption and strengthening the unjust coterie by coming to India Day Parade in New York.
Prof. Saluja also wrote that Federation of Indian Associations NY/NJ/CT ( FIA ) is not a representative organization of Indian Americans because barring 1-2 all the office bearers are from one community and one state of India.
ANNA'S HANDLER'S MUST HAVE SEEN THIS ARTICLE!
Anna Hazare:

It was my dream to visit USA even if my Host is a Corrupt & Racist organization of Insult India Parade and are supporters of Modi!
Anna Hazare:

I support Corruption, Racism, Bollywood & Pakistan! and

above all my host Narendra Modi & BJP supporters.

Anna at Insult India Parade in New York
Anna Hazare:
I am having Fun at Capital Hill thanks to

Narendra Modi Supporters and useless Desi Media

. I don't care if no US Congress Representative wants to meet me!
Anna Hazare

with his

Host of Pakistani origin

at Akbar Hotel in NJ.

It looks like Anna Hazare is on a mission to improve relations with India's hostile neighbor Pakistan. Earlier on 17th July Anna held a Press Coference in NY in a building

owned by

SHAFQAT CHAUDHARY

a possible

ISI

Agent. He was investigated when Kashmiri American Council President

Dr Syed Ghulam Nabi Fai

was arrested by FBI for working for Pakistani Spy Agency

ISI

. FIA Trustee & owner of SaharaTV

SUDHIR VAISHNAV

is good friend of

SHAFQAT CHAUDHRY

!
Anna Hazare

the True Gandhian Shopping for American Goods at NJ's Menlo Park Macy's!

Thank You Narendra Modi's Supporters for being a good host.
Confused or Crazy to be in USA:

Anna Hazare joined Insult India Parade in New York by Tainted FIA
Anna Hazare

crusader of corruption joined corrupt FIA for Insult India Parade in New York
Anna Hazare:

I will promote Corruption Racism, Bollywood and Pakistan only from now on wards! Anna after India Day Parade in New York
India Day Parade to Insult India

Consul General Prabhu Dayal

with a Criminal Nirav Mehta
Cheeter of Ahemdavad has become prestigious Leader of US! Gujarat Samachar
India Day Parade CHAIRMAN rc Sarvesh Dharyan ARRESTED by FED for Money Laundering, Bribery etc. on July 17, 2013
READ THE CHARGES AGAINST DHARYAN
THE INDIAN PANORAMA New York,

AMAR BHARTI

Delhi, India & TURNING INDIA
Tainted Gen V K Singh Joined the Insult India Parade in NY by Tainted FIA
Money Losing Air India & Tainted Gen V K Singh
South Indian Film Stars Sarath Kumar & Radhika Sarath Kumar were paraded with a

Swindler Journalist Prakash Swamy with $25,000 missing in his non profit org.

in Insult India Parade in New York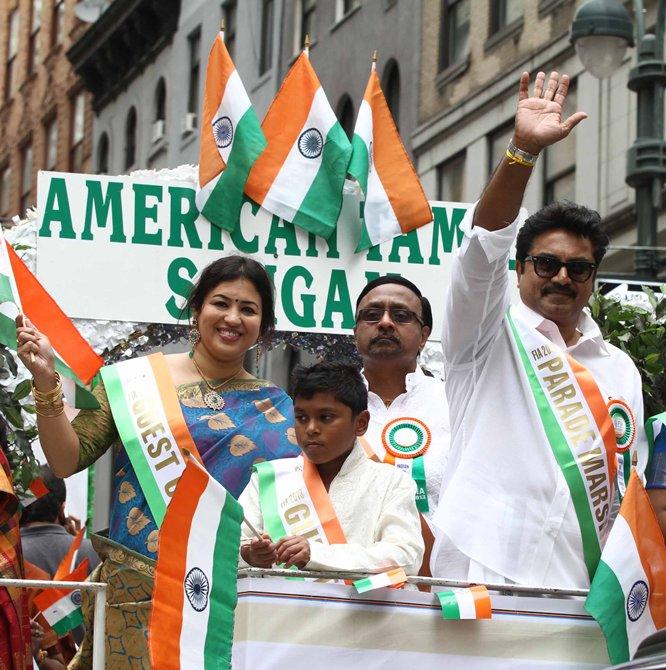 FIA Trustee, Albert Palace Hotel & TV9 owner

Albert Jassani

in Insult India Parade 2013 by Tainted FIA. Every year the Gala Dinners are held at Albert Palace, in 2011 the bill was $25,479.00
Those who are being Paraded what they have achieved in America?
Insult India Parade by Tainted FIA B4U Movies Float in Bollywood Parade
Insult India Parade by Tainted FIA B4U Music Float in Bollywood Parade
FIA Trustee & owner of Desi Talk & News India Times;

Dr Sudhir Parikh's

vision of India with Dancing person

of Pakistani origin.
Vidya Balan & CG Mulay being paraded with those who can not be paraded even in Pushkar Mela of Rajasthan India. Bollywood Parade in the name of India Parade by Racist FIA.
CG MULAY SOULD HAVE HIS OWN FLOAT REPRESENTING INDIA WITH HIS CONSULATE STAFF.
INDIA DAY PARADE OR CHEAP BOLLYWOOD PARADE
FOR & BY GUJARATI LEADERS
WITH INDIAN TAX PAYERS MONEY!
Insult India Parade by

FIA NY

of

One Religion

, One Community &

One Region

with CG Mulay at Indian Consulate. CG Mulay should be ashamed of himself for supporting a Racist organization & riding in a Float with those who can not be paraded for any cause. Mulay is not at all concerned if tomorrow it is found out FIA President Sanjay Amin has similar history to criminal Nirav Mehta!
Insult India in India Parade to Get
Ellis Island Medal of Honor
India Day Parades to Insult India in USA :
Why other Media not reporting
We are thankful to all those Media outlets who have shown the honesty and courage to expose the dark side of the India Day Parades in the best interest of the community. Unfortunately majority Indian Media in NY & NJ has their own compulsions like TV Asia owner H R Shah is Trustee of
FIA
, TV9 USA owner Albert Jassani is Trustee of FIA, Desi Talk & News India owner Dr. Sudhir Parikh is Trustee of FIA, Sahara TV USA owner Sudhir Vaishnav is Trustee of FIA, The South Asian Times owner Kamlesh Mehta is Founder of IDPUSA Hicksville Parade is also Nassau County Employee. Interestingly all of them are from one religion, one community and one region barring Mehta who is from Rajasthan. Some Media owners are more interested in advertisement revenue and photo ops with Bollywood Stars,
VIP
's from
India
and local American Politicians. They have no desire to serve the Indian community or have any respect for honesty, ethics, morality, transparency and accountability.
ANNA HAZARE:
CORRUPTION & RACISM IS WORLD PHENOMENON. SO I AM GIVING UP MY FIGHT AGAINST IT! FROM NOW ONWARDS I AM GOING TO PROMOTE CORRUPTION, RACISM & BOLLYWOOD!
AND ABOVE ALL I SUPPORT NARENDRA MODI THEY PAID FOR MY US TRIP.
Anna Hazare is a hypocrite, on one hand he talks against corruption and on the other hand he is the guest of most corrupt and racist FIA in USA. Anna has very little or no credibility left in India because he is surrounded by idiots and opportunist who are en-cashing him. This writer tried for 15 days to contact Anna after sending him all the details on FIA and Insult India Parade but Mr. Datta 248 824 0401 refused to let him talk with Anna. According to Datta for 3 days Anna never came out of his room because he was resting! Then the writer contacted the Bhrashtachar Virodhi Jan Andolan V.P. Balaji Kompalwar cell 9970033125 balajikompalwar@gmail.com and Secretary Ashok Sabban ashok.sabban@gmail.com cell 9422083206. After the exchnge of numerous phone calls & e-mails finally on August 15th both confirmed that they have talked to Anna in details about the information on FIA sent by me and has advised him not to join the Parade. Anna's answer was they have invited him and paying travel expenses and accommodation for his group he will take a decision after reaching in America.
Anna who thought he will be making a big speech on Gandhiri in this parade was fully aware what this parade is all about. The chaos reigned right at the beginning of the parade with hordes of badge and sash wearing majority Gujarati Office Bearers, their Sponsors and friends breaking the cordons to be near the Bollywood Star the so called Grand Marshal for the Parade.

This year there were 3 Grand Marshals; Vidya, Sarath & Radhika, it is hard to make out who was paying attention to Anna Hazare under utter chaos.
India Day Parade to Insult India in USA Funded by Indian Tax Payers
THE MURKY BUSINES OF INDIA DAY PARADES (

The South Asian Insider News

)
India's premier Public enterprises; Ministry of Tourism, Air India,State Bank of India, Bank of Baroda, Bank of India are funding FIA,controlled by people with no vision & honesty from one religion, one community and one region of India Gujarat; doing Insult India Parade in New York in the name of Indian Independence Day Celebrations. These Public enterprises are forgetting that India is a multi religious country with 29 states. By financing FIA they are promoting racism with Indian Tax Payers money in America besides misuse of public funds by FIA controllers for personal promotion. On top of that these organizations are giving money to FIA through a middleman who are making 15-30% commission. Indian Public must demand explanation. This money could have been used for Uttrakhand Relief Fund.
If we take a quick look the only purpose of these Parades is to make a quick name as well as quick money or monetary favors for the organizers or to dispense monetary favors to the favorite vendors; with least amount of efforts as well as a chance for them to be close to Bollywood celebrities, local officials and politicians. In nut shell none of these organizations have any thing to do with rich culture and traditions of India or its 29 states or its religious diversity. All they do is parade themselves, their families, friends, vendors, Bollywood star, local officials and US politicians in these Insult India Parades. Some of them being paraded have taken Political Asylum in USA by labeling India as a tormentor state and some are of Pakistani origin.
If we take a close looks at the finances of FIA that claims to be the organizer of largest India Day Parade outside India ; people will be shocked to see how they are misusing and plundering public money. As per IRS form 990 filed by FIA in 2011 their Insult IndiaParade cost them $357,000. This does not include the Free Air Tickets or Hotel accommodation or other favors FIA got from India's national carrier Air India or other Indian public sector organizations.

For 2012 Form 990 is not available or has yet to be filed byFIA. Surprisingly the Sikh Day Parade that has the practically same number of floats made by the same vendor and same number as well as same marching Bands, cost only $85,000. The Sikh Day Parade is well organized with the right message
with more than plenty free food, water and snacks for Indians as well as locals. According to Form 990; FIA executives has spent
$25,479 on Reception & Banquet
and
$25,865 for Video coverage, flowers, trophies, Badge & sashes for them selves,
their friends & sponsors. Another
$89,635 was spent on occupancy and travel,
$10,967 on conference and meetings byFIA. A whopping $49,043 is paid to scantily clad performers to do vulgar Bollywood numbers;
who really love India!
FOR IRS TAX RETURNS OF FIA write or call davemakkar@yahoo.com or 973 760 6006
India Day Parade: Corruption Racism and Bollywood Paraded in New York
India Insulted in US Parades More News Articles
INSULT INDIA PARADES IN USA IMAGES GOOGLE SEARCH