Insult India Parades in America: Funded by Indian Tax Payers
India's premier Public enterprises;

Ministry of Tourism

, Air India,State Bank of India,

Bank of Baroda

,

Bank of India

are funding FIA,

controlled by people with no vision & honesty from

one religion, one community and one region of India Gujarat; doing Insult India Parade in New York in the name of Indian Independence Day Celebrations. These Public enterprises are forgetting that India is a multi religious country with 29 states. By financing

FIA

they are promoting racism with Indian Tax Payers money in America besides misuse of public funds by

FIA

owners for personal promotion. On top of that these organizations are giving money to FIA through a middleman who are making 15-30% commission. Indian Public must demand explanation. This money could have been used for the poor children in India.
FIA:

Sash & Badge wearing Pakistani origin American & a person who claimed Indian govt tormented him to take Political Asylum in USA (

South Asian Insider News)
FIA Officials

& these girls were dancing on the tune of

"Mera Rang de Basanti Chola"
FIA:

Officials violating US Laws for a non-profit organization by taking Political sides
OTIBA:
Sash wearing person who claimed Indian govt tormented him to take Political Asylum in USA & TV Asia owner & FIA Trustee H R Shah, Edison Mayor Toni with no clue why she is there!
IBA:

Sash & Badge wearing

PAKISTANI

origin American &

Senator Sam Thompson

who has never helped any Indian victim and SIGNS BILLS CONCERNING JUVENILES WITHOUT READING THEM.
IDPUSA:

The Sash & Badge wearing speaking for themselves they are the one to be paraded in Hicksville. They have no clue about the rich culture and diversity of India.
The Murky Business of India Day Parades in NY & NJ (
The South Asian Insider News)
Every year the number of India Day Parades being organized in NY & NJ are increasing. The oldest organizer is FIA followed by IBA and then OTIBA. The latest entrant to this Band wagon is IDPUSA of Hicksville founded by 3 controversial characters; one gave money from a non profit organization meant for medicines for poor to IDPUSA for the parade, one is a County employee and publisher of English weekly with murky financial dealings and the third one is running a chain of restaurants on County properties.


If we take a quick look the only purpose of these Parades is to make a quick name as well as quick money or monetary favors for the organizers or to dispense monetary favors to the favorite vendors; with least amount of efforts as well as a chance for them to be close to Bollywood celebrities, local officials and politicians. In nut shell none of these organizations have any thing to do with rich culture and traditions of India or its 30 states or its religious diversity. All they do is parade themselves, their families, friends, vendors, Bollywood star, local officials and US politicians in these Insult India Parades. Some of them being paraded have taken Political Asylum in USA by labeling India as a tormentor state and some are of Pakistani origin.
Especially India Day Parade by FIA in New York and IBA & OTIBA in New Jersey is nothing but a vulgar Bollywood Parade organized by self proclaimed Leaders of Gujarati Samaj for themselves, their sponsors and supporters. It has become a mindless affair for local politicians & Photo Hungry Desi (PHD) Leaders posing as Indian Community Leaders along with their supporters who can not be paraded for any cause any where in the world including the world famous Pushkar Mela of Rajasthan in India. Most pathetic is dominance of Bollywood Star as Grand Marshal supported by office bearers of FIA, IBA & OTIBA with doubtful integrity, who are stealing from community organizations and selling its honor & dignity. Every year chaos reigned right at the beginning of the parade with hordes of badge and sash wearing majority Gujarati Office Bearers, their Sponsors and friends breaking the cordons to be near the Bollywood Star the so called Grand Marshal for the Parade. All that the parade viewers on the sidelines could see is an unruly mass of organizers, sponsors & their friends behaving like animals rolling down the avenue along with meaningless floats. Noisy and vulgar Bollywood numbers blare from each of the floats with barely clad performers, most of which did not necessarily portray any theme representing India or its culture or its Independence Day.


These meaningless & irrelevant floats; no where reflects the rich culture and heritage of Maa Durga's India or Lord Krishna's India or Guru Nanak Dev Ji's India or Jesus Christ's India or Prophet Mohammad's India. Nor do they reflect Mahatama Gandhi or Sardar Patel or Abdul Kalam or Ratan Tata or Azim Premji's modern India. Nor do these floats reflect contribution of Indian American's like Dr Sam Pitroda, Deepak Chopra, Dr. Sanjay Gupta, Nora Jones, Prof Jagdish Bhagwati, Prof Amartya Sen, Har Gobind Khorana, Prof Sunil Khilnani, Indra Nooyi, Victor Menenzes, H P Rama, B U Patel, Umang Gupta, Vikram Pundit, Ajay Banga, Vinod Khosla, Vinod Dham, Sonny Mehta, Karsh Kale, Mira Nair, Bharat Desai, Sameer Parekh, Sucheta & Anil Kapuria etc. in the American society and economy.
FIA, IBA & OTIBA are destroying the name and image of that very country India they say they love by organizing mindless and vulgar parades in the name of India Day Parade to show case themselves, their families, friends and vendors. Then they do not believe in transparency, accountability and democratically elected office bearers representing every Indian state and religion with term limits or publishing their accounts on their web sites. FIA has surpassed all the limits one of its Trustee is a proclaimed offender absconding from India and one of its Chairman was arrested on 7-17-13 by US FED for money laundering, bribery and other offenses; each attract min. 20yrs prison time.


If we take a close looks at the finances of FIA that claims to be the organizer of largest India Day Parade outside India; people will be shocked to see how they are misusing and plundering public money.

As per IRS form 990 filed by FIA in 2011 their

Insult

India Parade cost them $357,000.

This does not include the Free Air Tickets or Hotel accommodation or other favors FIA got from India's national carrier Air India or other Indian public sector organizations. For 2012 Form 990 is not available or has yet to be filed by FIA.

Surprisingly the

Sikh Day Parade

that has the practically same number of floats made by the same vendor and same number as well as same marching Bands,

cost only $85,000.

The Sikh Day Parade is well organized with the right message

with more than plenty free food, water and snacks for Indians as well as locals. According to Form 990;

FIA

executives has spent $25,479 on Reception & Banquet

and

$25,865 for Video coverage, flowers, trophies, Badge & sashes for them selves,

their friends & sponsors. Another

$89,635 was spent on occupancy and travel,

$10,967 on conference and meetings by FIA. A whopping $49,043 is paid to scantily clad performers to do vulgar Bollywood numbers;

who really love India!
Only FIA or its lunatic supporters/sponsors can explain what is occupancy and why they need to plunder public funds on their own comforts and image building. What's the need to organize Grand Shameful Gala's in luxury Banquet Halls costing over $25,000.00 or for video coverage for $10,000.00 or $11,000.00 on meetings or $90,000 on occupancy & travel or $49,000.00 to performers or $4000.00 on trophies? May be to reward office bearers, trustees, friends, spouse, Caterers, DJ's, and other vendors. It's also no secret how these Parades are being funded with US Non Profit, Indian Public Sector organizations and Public money with middlemen taking commission on the funds raised.
FOR IRS TAX RETURNS OF FIA CONTACT
davemakkar@yahoo.com
or 973 760 6006
FIA, IBA & OTIBA can spend millions on a senseless Parade but can not give Scholarships to deserving students from less fortunate families from the community. They can only talk about Indian culture and heritage but can not give scholarship or recognition or even a performing platform to US born Indian Americans who can play the musical instruments of their ancestors, can perform Indian Classical Dances and can recite songs in classical music in various Indian languages. When FIA, IBA & OTIBA can not give recognition or platform to such US born cultural Ambassadors of Indian culture how one can expect them to have any respect for Indian Culture and Heritage?
People who understand public service and are capable of bringing good for the Indian & American community are side lined because they are not willing to bow to the dictates of Photo Hungry Desi (PHD) organizers from FIA, IBA & OTIBA especially from one community and one state of India.
There should be a public debate on the needs for these Parades that is not serving any purpose to the community. FIA, IBA & OTIBA has lost credibility, it is the opinion of many American Indians that India Day Parade should only be organized by the Indian Consul General's office in New York. India Day Parade must reflect Indian culture and no politician or sponsor or so called Indian Leader or organizer should be paraded in the Parade; they can all stand at the VIP stand only. Adults and children of Indian origin who have achieved some thing in their lives and have made positive contributions to the society should walk on the Parade route as well as ride on the floats. All Floats must reflect the rich culture and heritage of India and contributions of Indian Americans of all walks of life representing different states and religions of India. All proceeds from the Parade must be utilized to create a fund for Scholarships for students of economically weaker section of Indian American community of NY & NJ and promotion of Indian culture and traditions in America.
Hazare Balan Sarath Radhika Gen Singh & CG Mulay joined

Insult India Parade

in New York on Aug.18, 2013
ANNA HAZARE: CORRUPTION & RACISM IS WORLD PHENOMENON.
SO I AM GIVING UP MY FIGHT AGAINST IT!
From now onward I am going to promote corruption, racism and Bollywood!
Anna Hazare by joining the Insult India Parade in New York by FIA of one religion, one community and one region (Gujarat); sends a message if you can not fight with corrupt & racist JOIN THEM. Hazare's greed to visit USA forced him to sacrifice his own principles and he accepted to be the guest of most corrupt and racist ethnic organization FIA.
As far as Vidya Balan the Grand Marshal is concerned it looks like she doesn't care where she is walking for money or with whom she is walking!
She has no idea about FIA owners & their lunatic supporters; how much they respect women or India or its culture.
Sarath & Radhika were paraded with Prakash Swamy riding in his new venture

American Tamil Sangam

to possibly loot again the American Tamils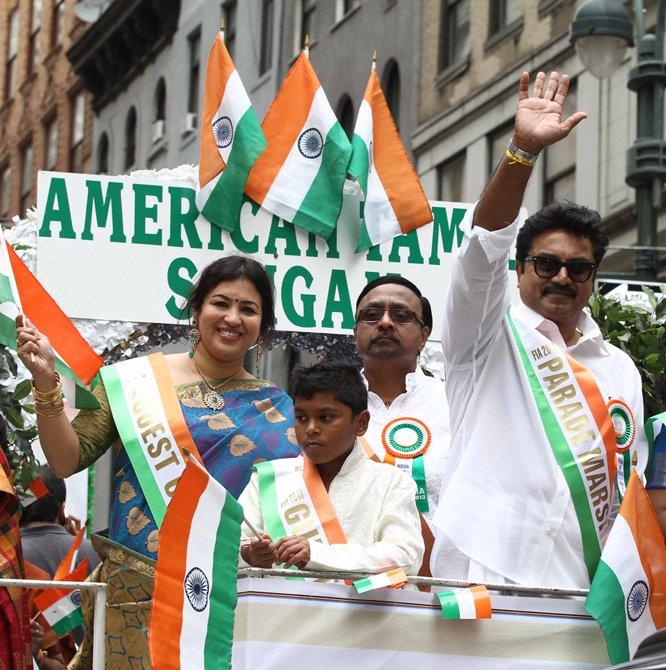 FOR IRS TAX RETURNS OF SRI VARI FOUNDATION CONTACT
davemakkar@yahoo.com
or 973 760 6006
As per FIA for the first time South Indian Stars Sarath Kumar & Radhika Sarath Kumar joined the parade as Grand Marshal. This has been made possible by Jounalist Prakash Sawamy the owner of dubious non profit organization Shi Vari Foundation Inc. that is missing over $25,000.00. He cut a deal with FIA to dupe Sarath & Radhika to be the guest of corrupt FIA. At one time Sawamy in his article

"Grow up FIA for India's Sake"

accused FIA of non transparency, no accountability, mismanagement and racism.

Surprisingly

Sawamy press release says it will be an honor for Sarath & Radhika Kumar to walk in (Insult) India Parade!
Tainted FIA got a
Tainted retired Gen. V K Singh
to march in the Insult India Parade.
Gen Singh is facing criminal defamation suit and was recently pulled up by Armed forces Tribunal for promoting a undeserving Officer from his own unit in 2011.
The Indian Army has also requested the Defense Ministry to order a high-level probe into the functioning of a top secret intelligence unit set up by Gen (retd) V K Singh, suspecting it of carrying out "unauthorized operations" and financial wrongdoings.
He was also pulled by Metropolitan Magistrate Jay Thareja on the issue of Judge to recuse himself from the Criminal Defamation Charges filed against him by Gen. (retd) Tejinder Singh.
The Judge also warned Gen. V. K. Singh of action over the conduct. This is the same General who wanted to be in service for 10 more months by changing his date of birth and took Government of India to Court!
Ambassador Nirupama Rao and CG Dnyaneshwar Mulay give a damn to the public humiliation suffered by CG Prabhu Dayal and Ambassodor to UN Hardeep Puri at the hands of FIA; when they were pushed in the back.
Next year worst was CG Dayal took a ride in Insult India Parade with a proclaimed and absconding financial offender Nirav Mehta from Gujarat.
Nirav Mehta was FIA President in 2010 and became Trustee of FIA in 2011.
CONSUL GENERAL DNYANESHWAR MULAY SHOULD BE ASHAMED OF HIM SELF
FOR VIOLATING THE PROTOCAL THAT HE IS REPRESENTING INDIA. HERE HE IS SHARING THE FLOAT WITH US CITIZEN SANJAY AMIN WHO MAY HAVE THE SAME OR SHADY PAST AS FUGITIVE NIRAV MEHTA, US CITIZEN DR SUDHIR PARIKH AND BOLLYWOOD REPRESENTATIVE VIDYA BALAN. CG MULAY FIRST OF ALL SHOULD NOT HAVE PARTICIPATED IN A PARADE ORGANIZED BY GUJARATI LEADERS TO PROMOTE THEMSELVES & TO INSULT INDIA.

IF AT ALL HE WAS SO CRAZY TO PARTICIPATE HE SHOULD HAVE HIS OWN FLOAT REPRESENTING INDIA WITH HIS CONSULATE STAFF.
Cheeter of Ahemdavad has become prestigious Leader of US! Gujarat Samachar
FIA CHAIRMAN (r c) Sarvesh Dharyan ARRESTED BY US JUSTICE DEPT. for Money Laundering, Bribery, Travel Act & Kick backs READ THE STORY
INSULT INDIA,

MISUSE PUBLIC FUNDS

& BELIEVE IN GUJARAT IS INDIA & INDIA IS GUJARAT,

NEVER HELPS EVEN A 8YRS OLD FROM YOUR OWN COMMUNITY

TO GET

ELLIS

ISLAND MEDAL OF HONOR

IN AMERICA!
Message of all 4 Parades

"Mera Rang de Basanti Chola!"
INDIA DAY PARADES OR

BOLLYWOOD PARADES

WITH THOSE WHO CAN NOT BE PARADED ANY WHERE IN THE WORLD FOR ANY CAUSE. EVEN THE PARADEES OF WORLD FAMOUS PUSHKAR MELA IN RAJASTHAN (INDIA)WILL REFUSE TO BE PARADED WITH THOSE WHO ARE PARADED HERE.

SUCH PEOPLE ARE BEING PARADED AT PUBLIC DIME!
Insult India Parades:

Why Media is not Reporting!
Media owners Love to be Paraded in the Insult India Parades
We are thankful to all those Media outlets who have shown the honesty and courage to expose the dark side of the India Day Parades in the best interest of the community. Unfortunately majority Indian Media in NY & NJ has their own compulsions like TV Asia owner H R Shah is Trustee of
FIA
, TV9 USA owner Albert Jassani is Trustee of FIA, Desi Talk & News India owner Dr. Sudhir Parikh is Trustee of FIA, Sahara TV USA owner Sudhir Vaishnav is Trustee of FIA, The South Asian Times owner Kamlesh Mehta is Founder of IDPUSA Hicksville Parade is also Nassau County Employee. Interestingly all of them are from one religion, one community and one region barring Mehta who is from Rajasthan. Some Media owners are more interested in advertisement revenue and photo ops with Bollywood Stars, other
VIP
's from
India
and local American Politicians. They have no desire to serve the Indian community or have any respect for honesty, ethics, morality, transparency and accountability.
FOR MORE NEWS ARTICLES ON INDIA DAY PARADE IN NY